Get the full picture with the FT's Premium financial newsletters.
Experts in the financial services industry must be attune to opportunities and trends impacting their business and clients. From making better business decisions with newsletters like Lex to analysing the dealmakers in corporate finance with Due Diligence, the FT delivers a range of newsletters for all financial topics and beyond.
If you're wondering what the best FT newsletters are, below is a selection of FT Premium newsletters for those in the financial sector.
The Lex Newsletter
The Lex Newsletter is a twice weekly newsletter from the FT's agenda-setting column on business and finance. The column itself has been published daily since 1945, arguably making Lex the world's most influential column of its kind.
Headed up by Jonathan Guthrie, the team behind Lex operates across four time zones providing a continual turnaround of global information. By subscribing, financial service professionals and their teams can rely on Lex to make better investment decisions by highlighting key global risks and opportunities.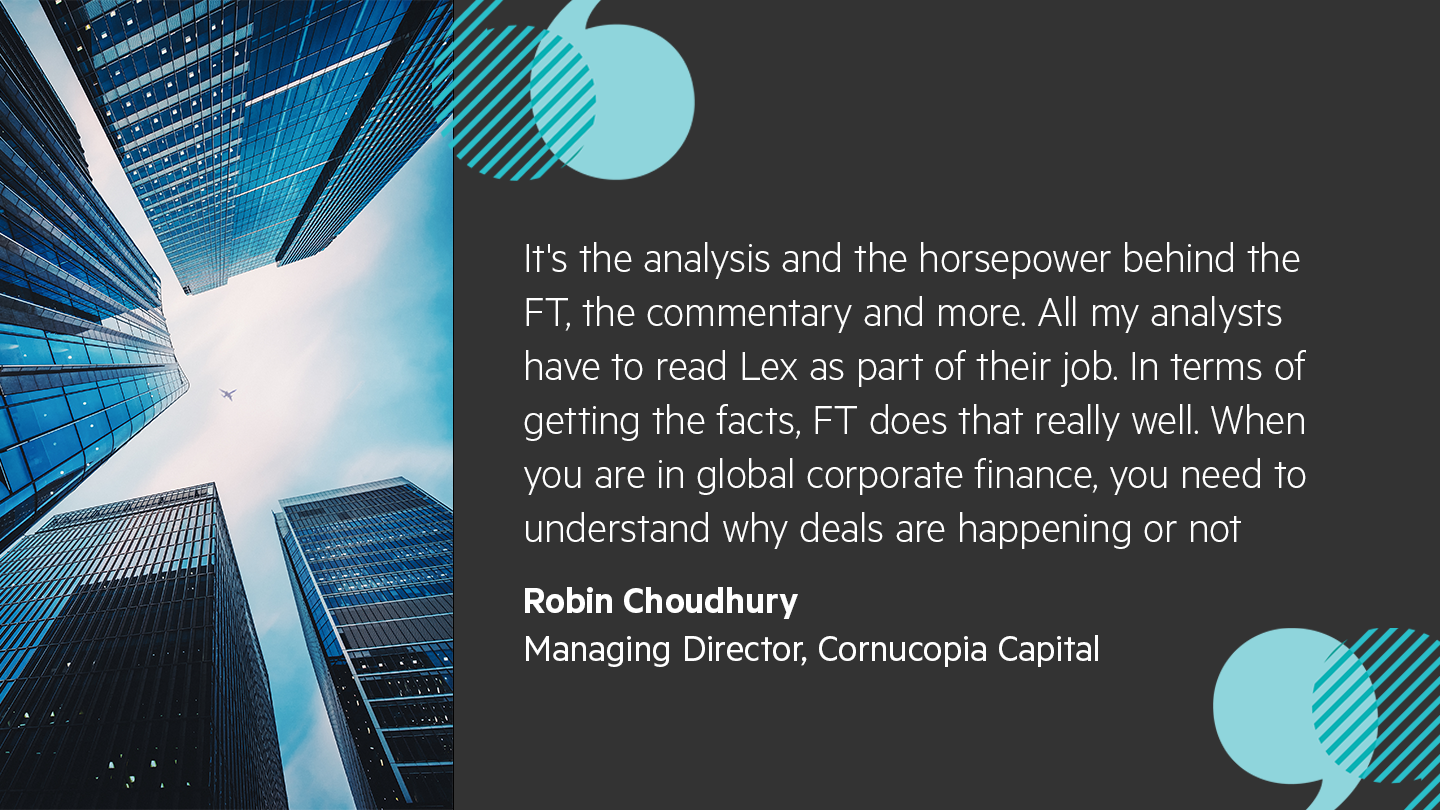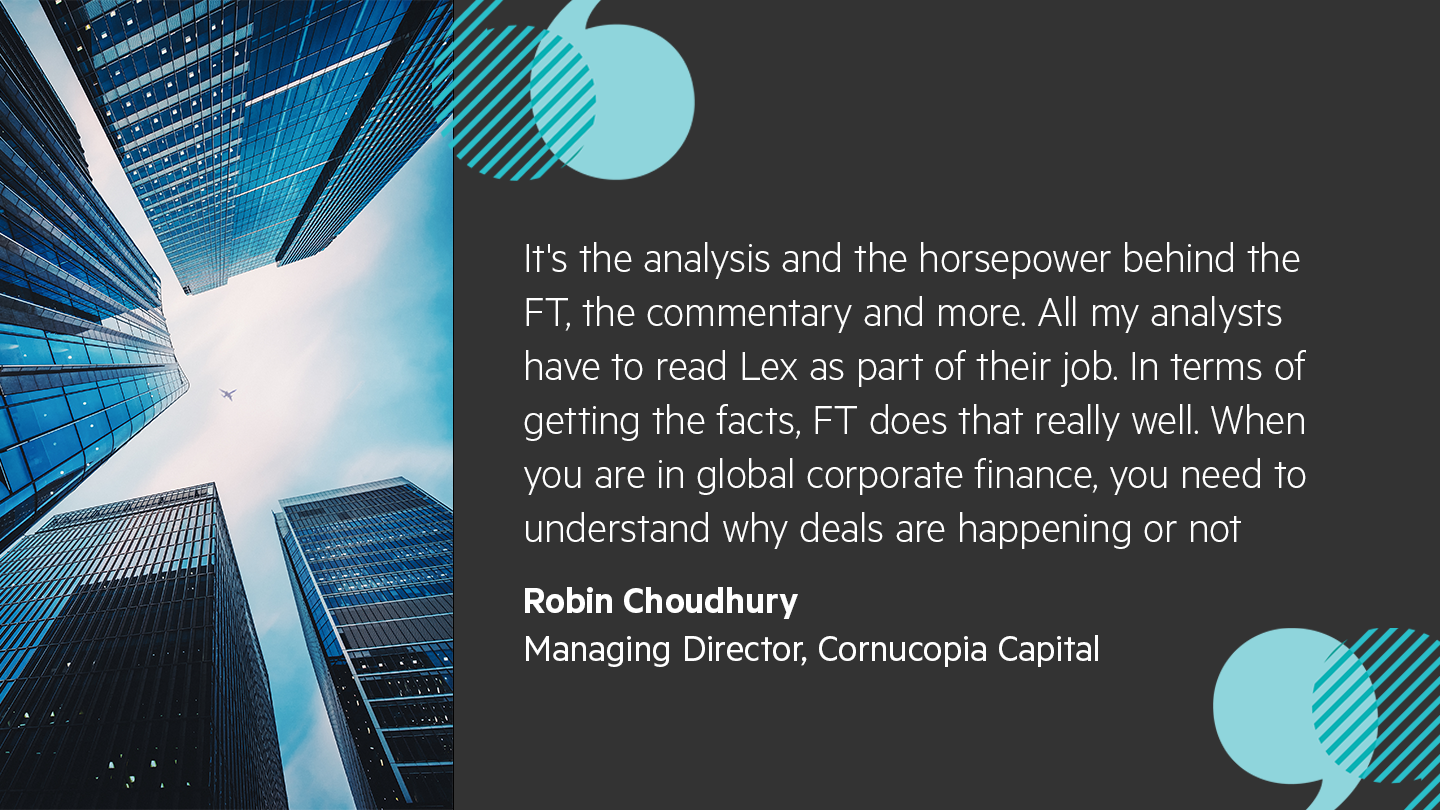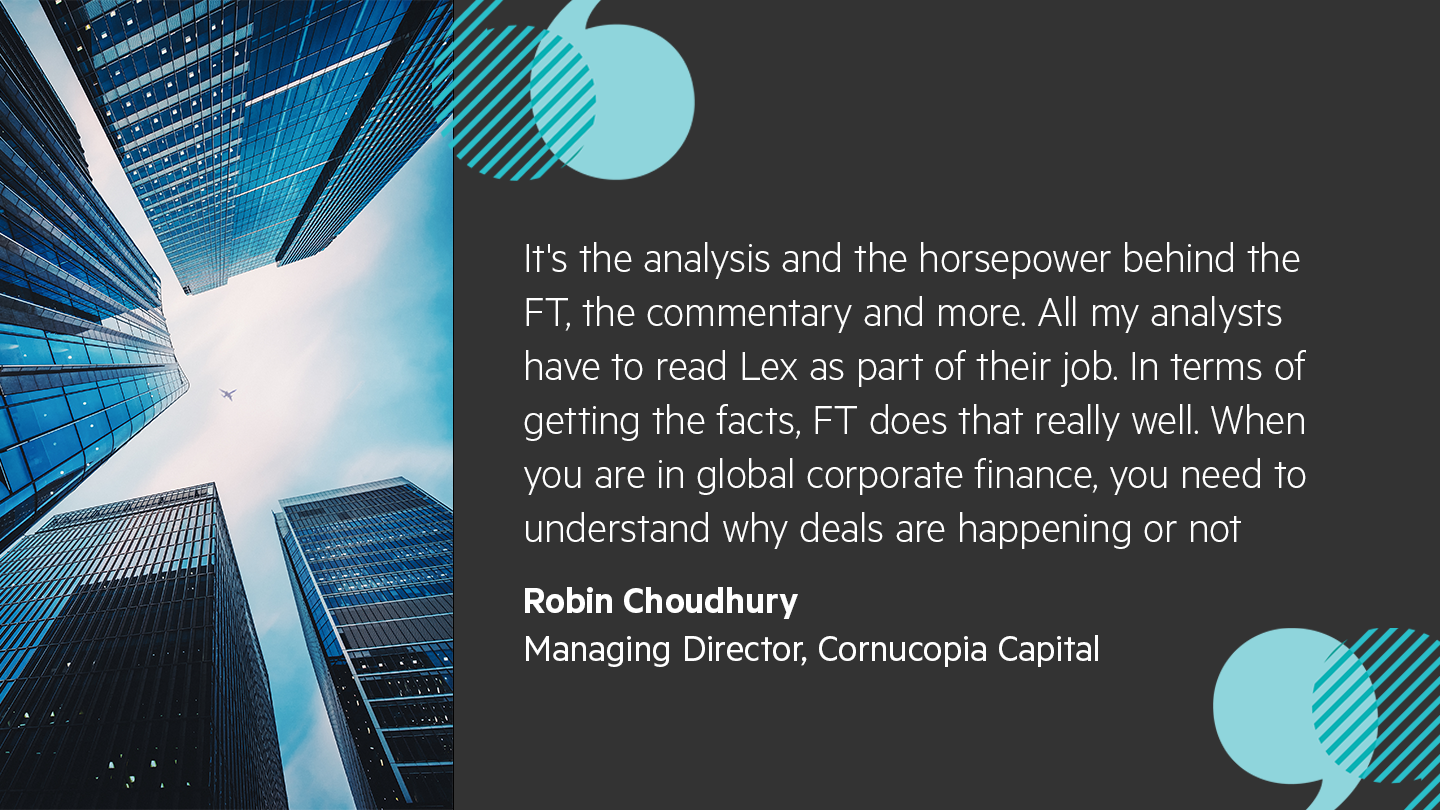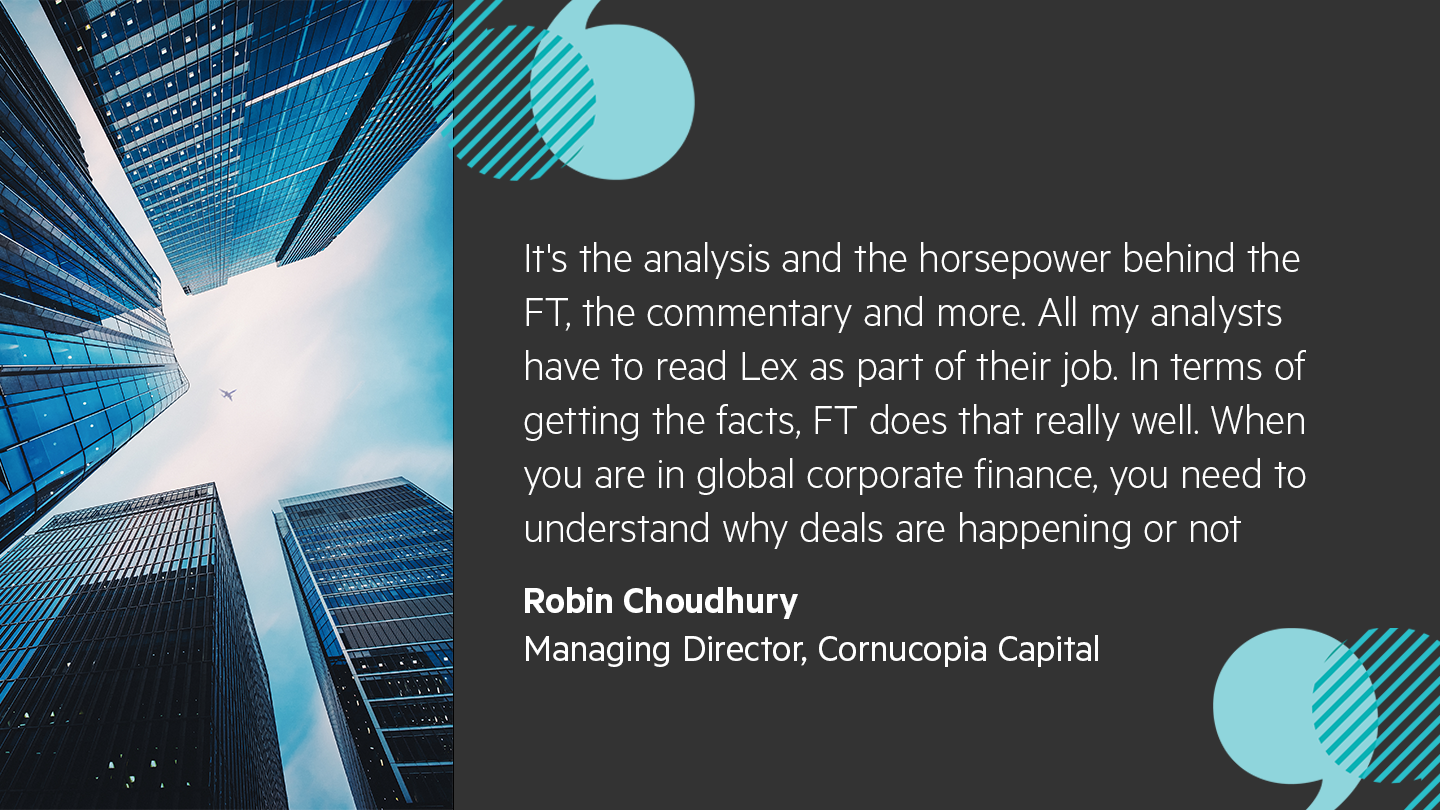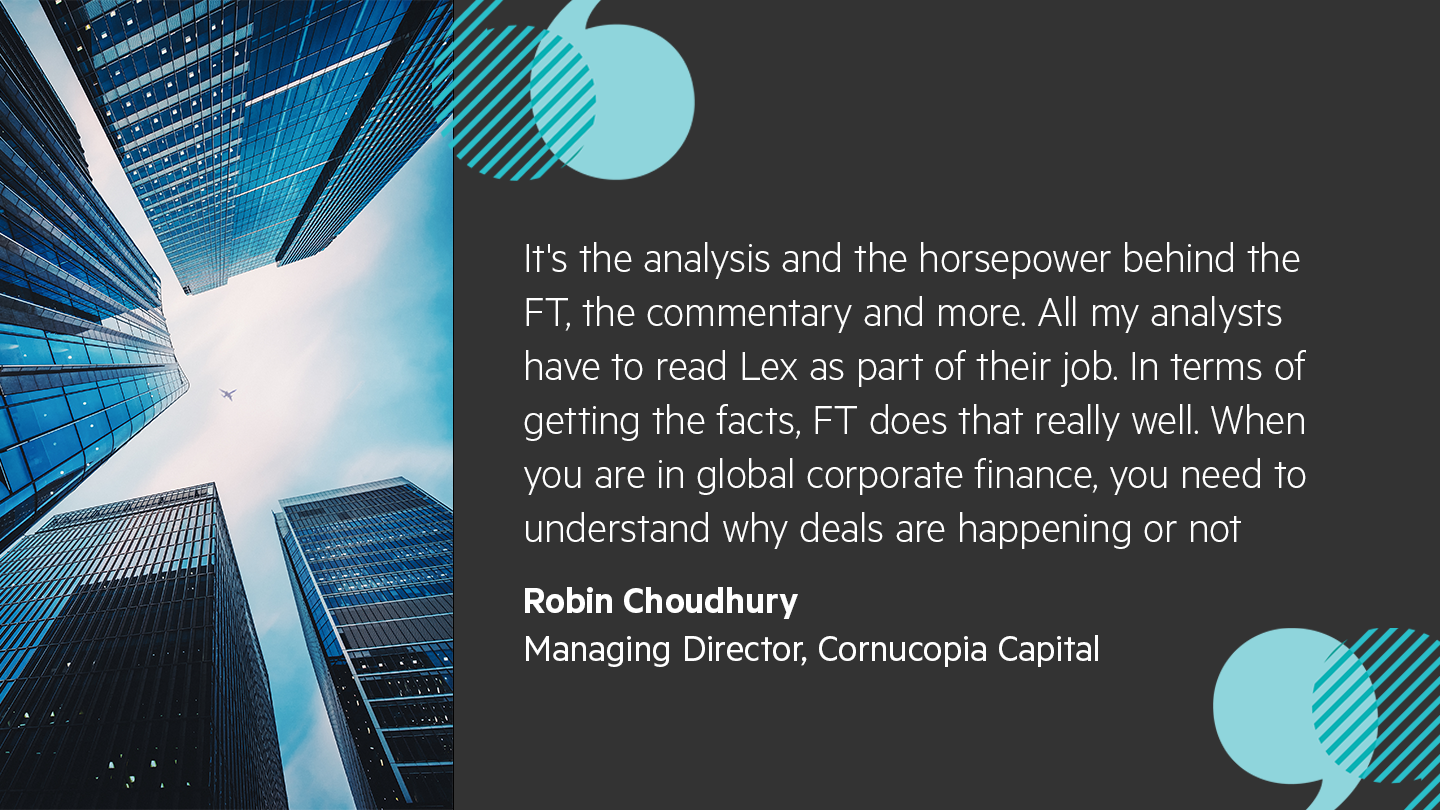 Lex is available for FT Premium subscribers to catch up with commentary from Lex's award-winning global team each Wednesday and a review of the week's best commentary every Friday.
City Bulletin
This weekday Premium newsletter prepares its subscribers for the London market opening each day. From trajectory market expectations to company trading updates, subscribers can confidently receive trusted market insights from City Bulletin.
Bryce Elder is the editor for City Bulletin and is also the FT's UK equities reporter since 2008. His pre-market update and direct commentary prepares FT readers for when the London market opens.
By subscribing to City Bulletin, readers receive a daily market breakdown straight into their inbox. To this end, Premium newsletters like City Bulletin alert readers for the market developments of the day ahead and outlines the analysis needed to steer better and more informed business decisions.
Sign up here to get the newsletter sent straight to your inbox every weekday.
Due Diligence
Every Tuesday to Friday, Due Diligence covers the top stories from the world of corporate finance, including detailed analysis of the dealmakers driving the news. This Premium newsletter is curated by a team of specialist reporters and edited by the FT's corporate finance and deals editors, Arash Massoudi in London and James Fontanella-Khan in New York. Due Diligence focuses on the details of the latest deals and the most important financial stories of the week.
In Due Diligence, we don't just curate the best of the FT's corporate finance reporting but our team from around the world takes readers deeper into their notebooks and shares the latest insights exclusively on everything from M&A to private equity.

FT corporate finance and deals editor
Due Diligence breaks news in briefings that can't be found elsewhere. Subscribers benefit from exploring the details of the most important stories from across the FT. With premium access to analysis and insights, Due Diligence acts as a one-stop-shop for finance professionals to get up to speed. By making sense of the deals and developments taking place, professionals can utilise the best information to make decisions within their own companies.
#fintechFT
Every Monday, #fintechFT briefs readers on the latest digital finance disruptions for the week ahead. This Premium weekly briefing is curated by a team of reporters based in Europe, Asia and the US focusing on digital developments and disruption within the financial industry.
Fintech experts utilise the FT to grasp and understand important events and potential risks within the fintech world. With developments in new payment gateway technology to the further automation of financial consumer services, the FT's deep industry knowledge keeps readers up to speed.
With a team of contributors from across the FT's international network, #fintechFT provides unique insight on the fast-moving fintech industry. Each week it rounds up the most important news, digs deeper into key trends, and shines a spotlight on interesting new start-ups.

FT retail banking reporter
Premium subscribers can sign up here to receive #fintechFT's weekly briefing.
Group Subscriptions - Get in touch
An FT Group Subscription extracts the intelligence that's relevant to your business and delivers it via the media and technologies that suit you best, saving you time and keeping you informed on what matters.
Help your team make better business decisions with the FT's trusted commentary and analysis. For more information about how the Financial Times can help your organisation or to request a free trial, please get in touch.