We have a strong culture at Sorainen for sharing ideas and intelligence.

Business Development Specialist, Sorainen
The value of an FT Group Subscription at Sorainen
Sorainen is an international business law firm with more than 250 lawyers and tax advisors. The Baltic law firm represents international and locally-based clients whilst working together as a team.
Sorainen provides legal and tax advice to clients in various industries. Up-to-date market intelligence via an FT Group Subscription allows professionals to put global news into context and advise plausible solutions to clients.
For Sorainen, gaining insight into the European markets is essential in formulating effective business strategies and recognises the FT as the most credible source for obtaining market information.
A strong culture for sharing
Tatsiana Harbuzava is a Business Development Specialist at Sorainen. Within her role, Tatsiana is responsible for teams who work with clients in different industries, such as Life Sciences.
If I see anything interesting on the FT, I will share it with the relevant teams.

Business Development Specialist, Sorainen
FT Group Subscriptions enable immediate access and frictionless sharing between team members at Sorainen. An FT Group Subscription allows Tatsiana to look for opportunities to help lawyers serve their respective clients. "We have a strong culture at Sorainen for sharing ideas and intelligence," Tatsiana explains. "If I see anything interesting on the FT, I will share it with the relevant teams."
The FT also helps the business development team at Sorainen handle multiple client-related projects, such as conducting market research, collecting business intelligence and searching for new opportunities. Frictionless sharing allows Sorainen to "achieve strategic goals as a firm". According to Tatsiana, "staying in the loop for both micro and macro-developments is crucial in ensuring that professionals at Sorainen can provide timely legal advice."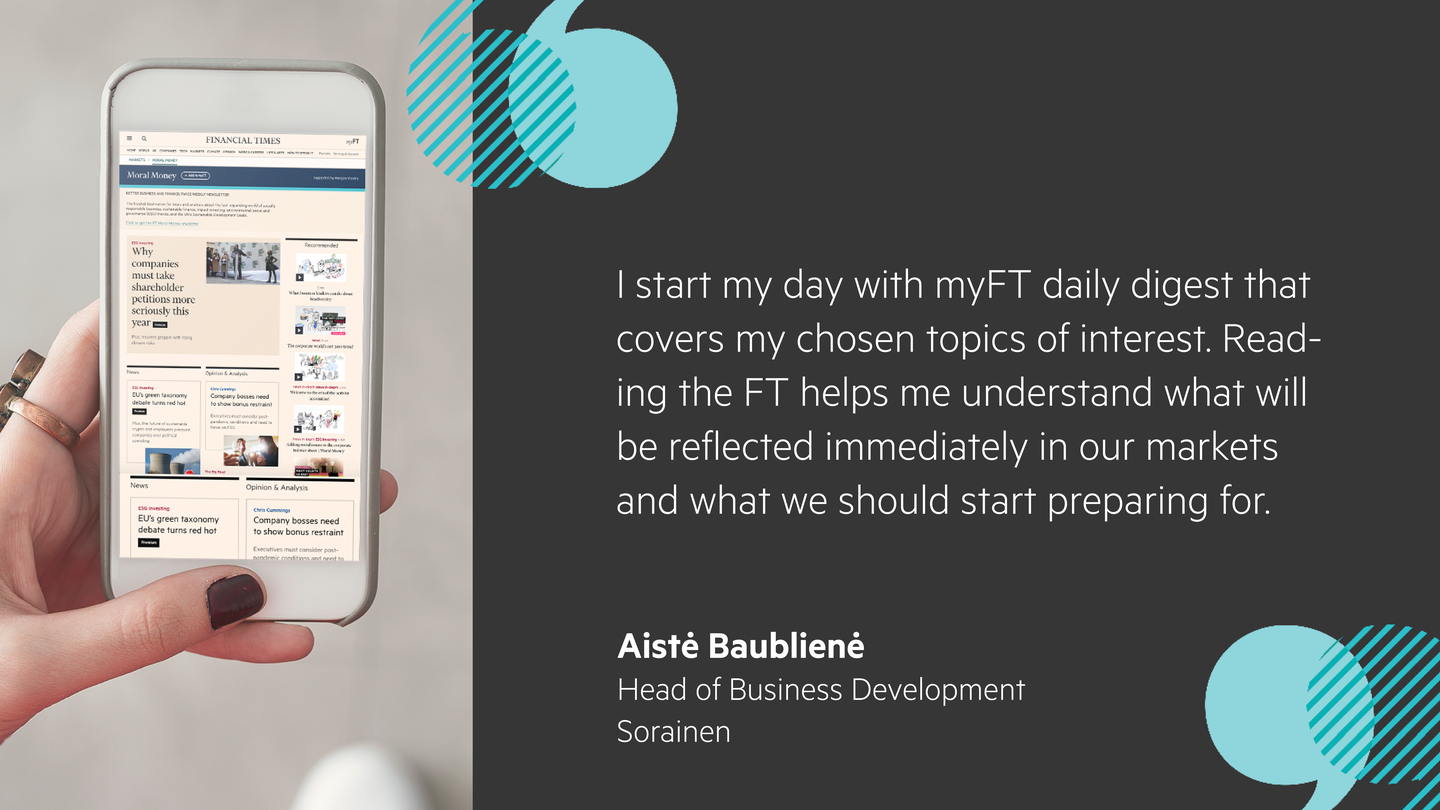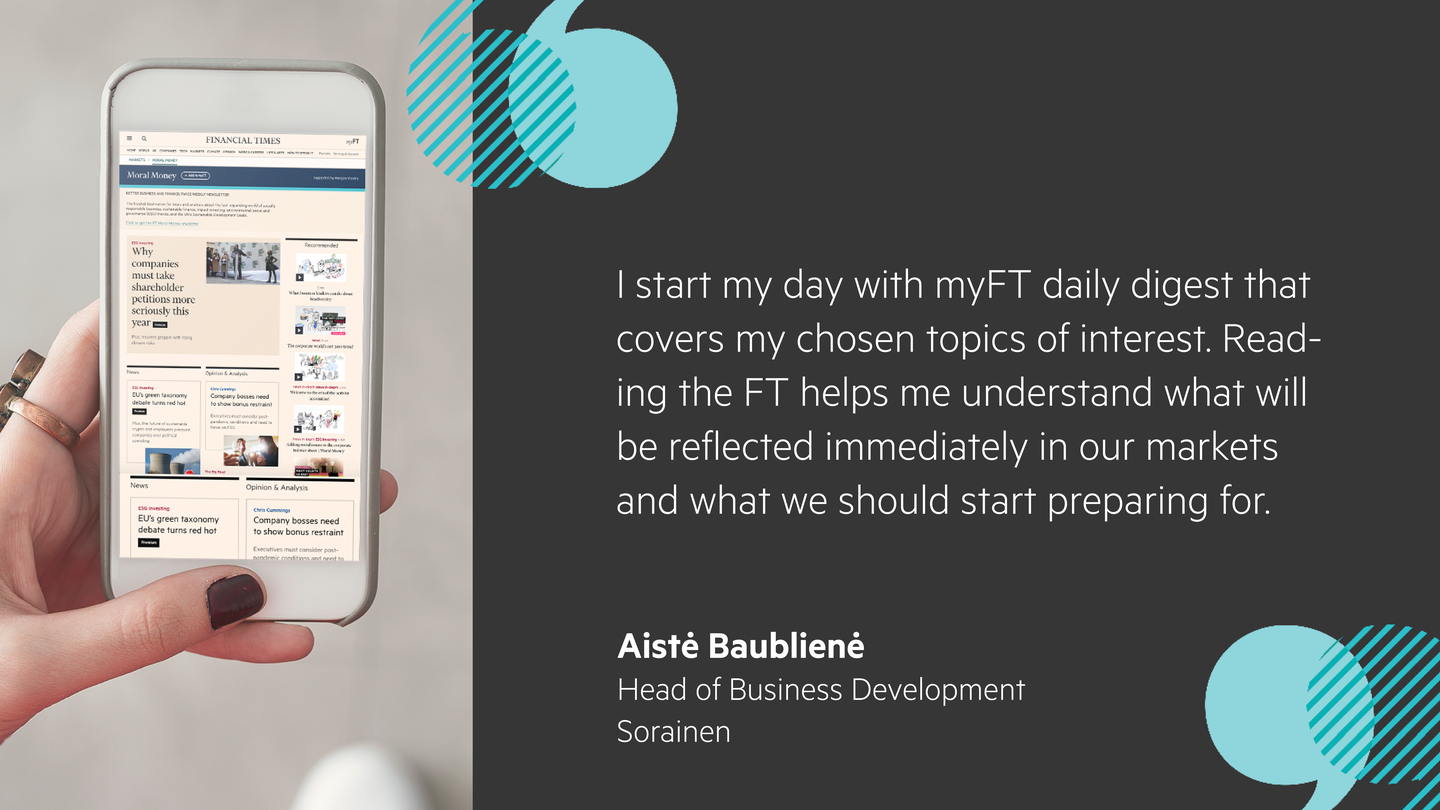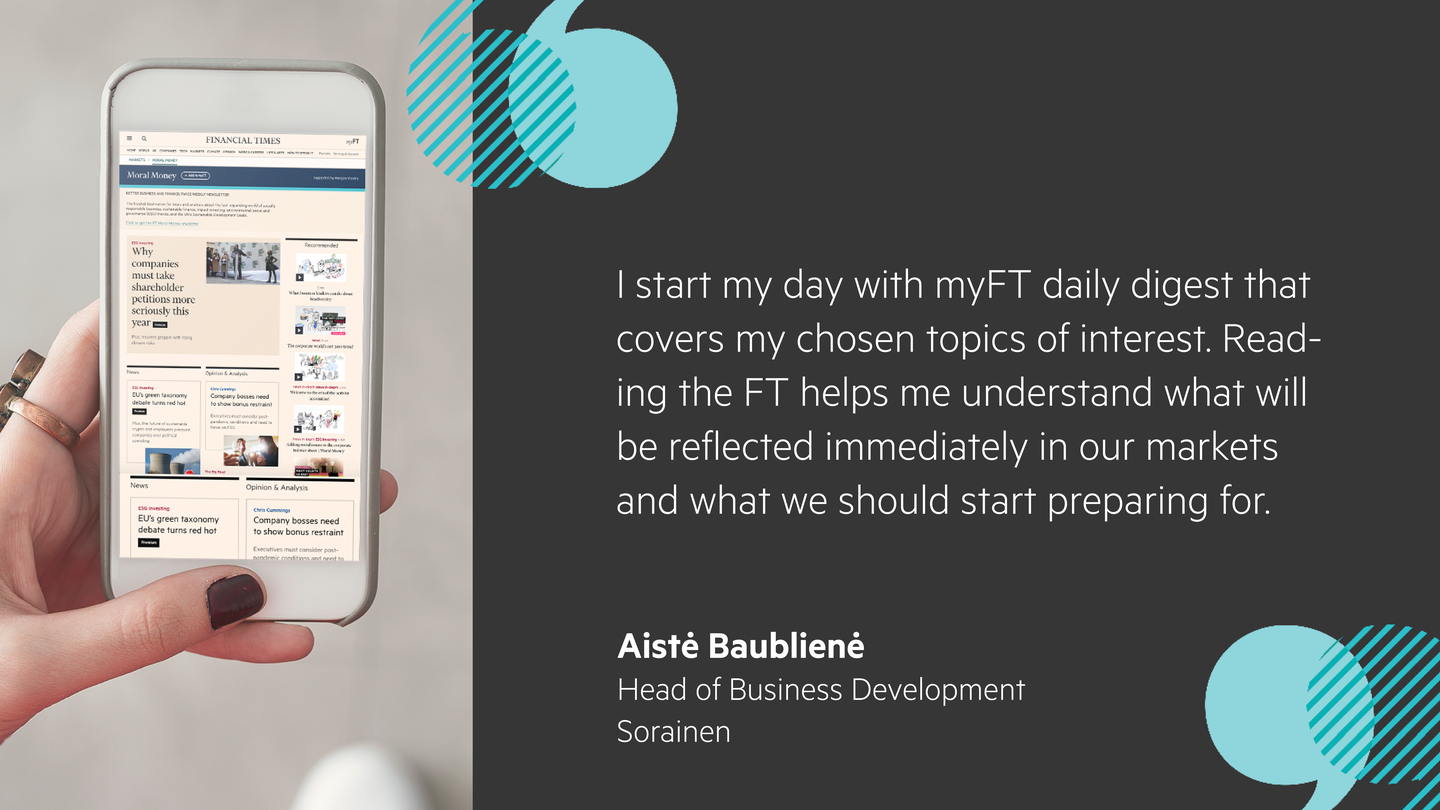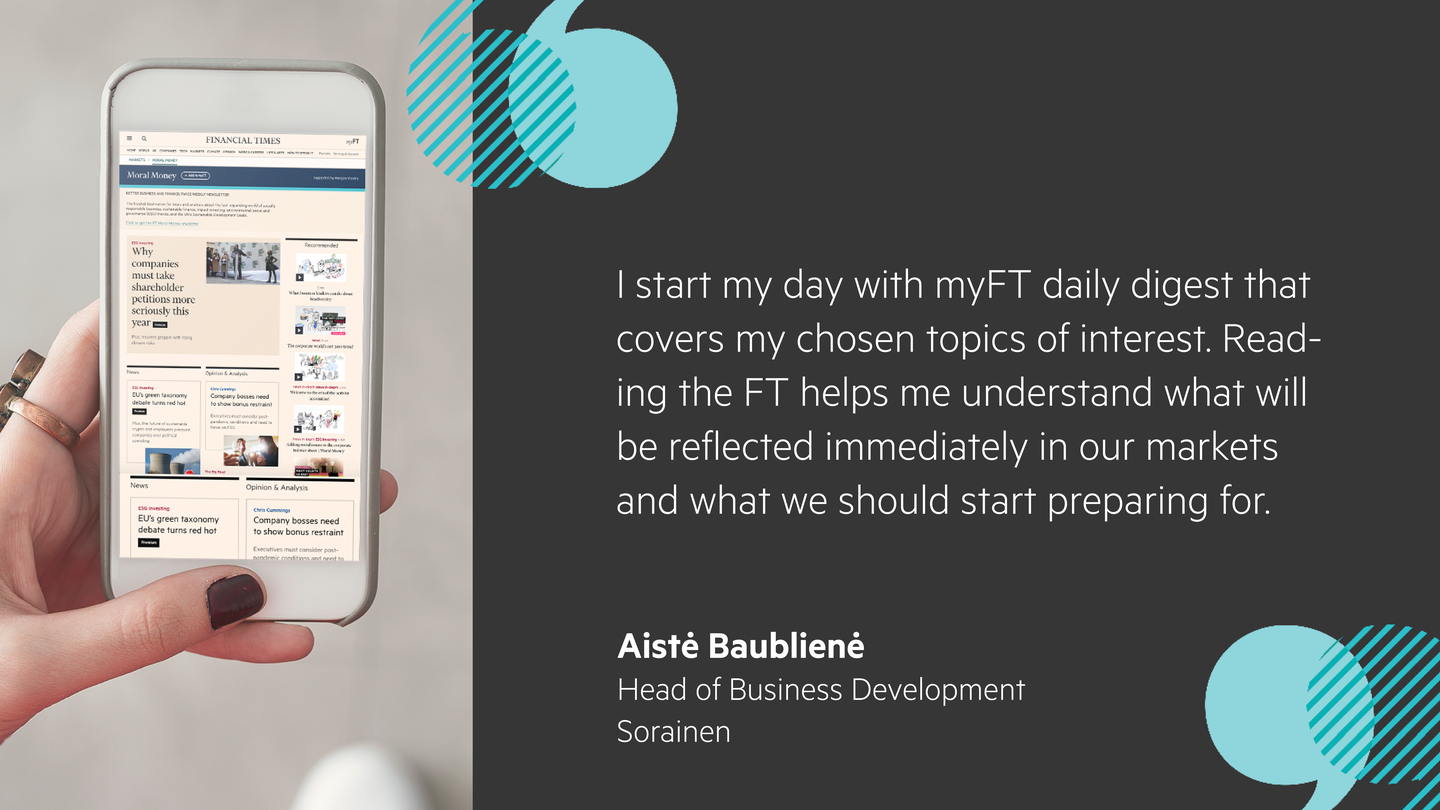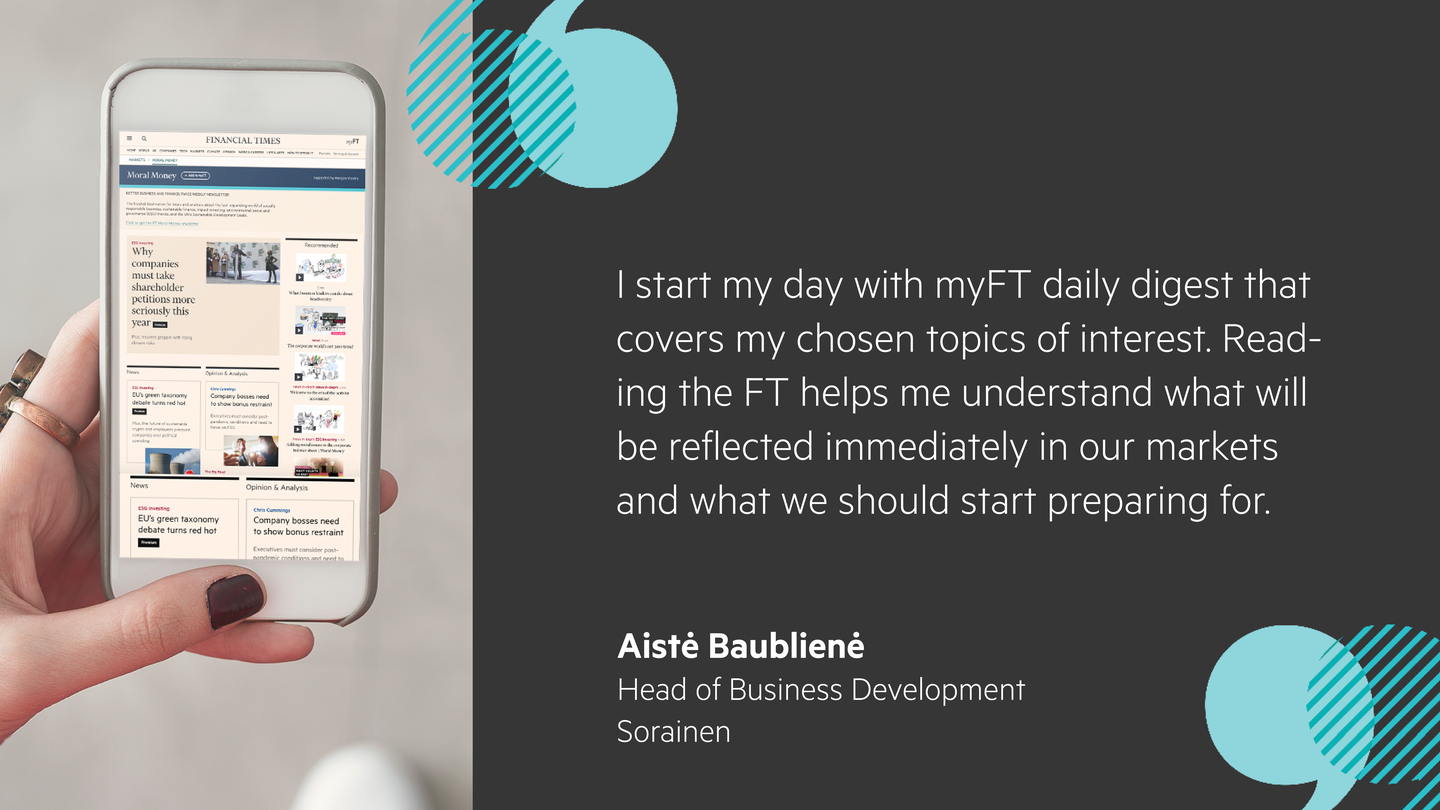 Speaking in your clients' language
Aistė Baublienė is the Head of Business Development at Sorainen. She describes an FT Group Subscription as a worthwhile 'investment', one that helps lawyers and tax advisors at Sorainen save valuable time.
The more we speak our client's language and understand general economics, the greater the value we can create for them through our service.

Head of Business Development, Sorainen
An FT Group Subscription is vital for legal businesses to stay informed on global and regional trends. "We cannot afford to miss out on major events or be late to receive any news coverage," Aiste explains the importance for Sorainen to gain information from a reliable source. She further states that "one person cannot possibly be an expert on all subject matters. Our knowledge of regional businesses, market players, people, culture and networks are supplemented and inspired by FT insights." The FT provides ease and convenience to business professionals at Sorainen with access to objective reporting from over 700 journalists globally.
The FT is the easiest way a large group of individuals can utilise market intelligence for their specific business needs.

Head of Business Development, Sorainen
With a global clientele, FT content helps legal professionals at the firm speak the same language as their clients. In other words, the FT helps lawyers at Sorainen to translate market information into relevant advice for clients based in different regions and industries.
Demand for market intelligence
As a full-service law firm, Sorainen works across all areas of legal and tax expertise. An FT Group Subscription helps Tatsiana and the business development team cover a lot of ground with "well-structured expert articles and relevant market intelligence".
"The level of uncertainty during the pandemic was unprecedented," Tatsiana tells the FT how it was a priority for legal professionals at Sorainen to search for answers from a credible source, especially during a period of information overload. She describes the FT as "one of the best providers of accurate intelligence on European markets". Tatsiana also finds the formats in which she can read the FT rather diverse.
As a firm, Sorainen has a long-term strategy for sustainable development, while its core purpose is to grow prosperity in the Baltic region. Insights from the FT help the firm develop its entrepreneurial culture through client-centric innovations. In hindsight, it has helped build commercial acumen internally and ensured that clients are kept up-to-date on the latest news and developments externally.
I like having the opportunity to conduct in-depth research on topics such as ESG investing and analysis.

Head of Business Development, Sorainen
The leadership team at Sorainen frequently use the FT to build materials for internal board and all-hands meetings. The FT provides C-Suite executives with real-time data to help with economic forecasting. This enables Sorainen to maintain a competitive advantage by predicting market expectations across Europe whilst serving as a treasury for leadership and management ideas.
An FT Group Subscription extracts the intelligence that's relevant to your business and delivers it via the media and technologies that suit you best, saving you time and keeping you informed on what matters.
Help your team make better business decisions with the FT's trusted commentary and analysis. For more information about how the Financial Times can help your organisation or to request a free trial, please get in touch.