your path to
intelligent decision making
FT Premium interprets hundreds of sources from across the globe, to deliver business-critical insight, opinion and analysis you won't find anywhere else. With expertly curated content in a consumable format, FT Premium is the trusted source you need to enhance your team's decision making.
Explore the best of FT Premium content to understand how you can benefit.
Lex helps firms to mitigate risk
Lex is the FT's agenda-setting column on business and finance.
The oldest and arguably the most influential business and finance column of its kind in the world, Lex helps organisations make better investment decisions by highlighting key emerging risks and opportunities.
The Best of Lex newsletter provides a catch up from Lex's 4 centres around the world each Wednesday, and a review of the week's best commentary every Friday.
We are pleased many subscribers are willing to pay extra for FT Premium, of which Lex is the flagship. This gives us the resources to research deeply and edit hard. Many free blogs are longer. Most say less. Lex is more!

Head of Lex and FT Associate Editor
4,000+ leading organisations globally



benefit from FT Premium
Moral Money provides forward-looking intelligence
Gain insight into the fast-expanding world of socially responsible business.
Moral Money is the trusted destination for news and analysis about sustainable finance, impact investing and ESG. It explains to readers what's coming, and what trends to expect from a financial markets perspective.
Get concise insight from FT Premium newsletters
Premium provides access to range of specially-curated newsletters, which all share the ability to unpick complex situations in as few words as possible.
As well as the featured briefings below, the FT's extensive suite of newsletters cover topics from business education to global trade.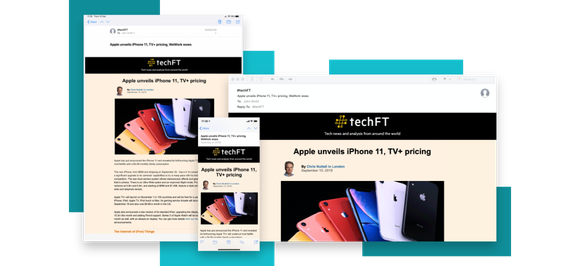 Due Diligence cuts through the noise
Due Diligence is the must-read daily briefing on corporate finance, mergers & acquisitions, and private equity.
From Tuesday to Friday at 5am UK time, we'll send our curated briefing straight to your inbox. In it, you'll find the most important stories, analysis, and insights from the FT and across the web selected by a team of specialist reporters from around the world. See the latest Due Dilligence briefings.
There simply is no global briefing on corporate finance, private equity and M&A that is more comprehensive than Due Diligence.

FT Corporate Finance Editor
Read here for the full breakdown of FT Premium
columns, newsletters and tools.
Get in touch to discuss how your organisation
can get more from your subscription.