The FT helps companies gain a more in-depth knowledge of the issues impacting their clients' industries and adjacent sectors.

Start your free FT.com trial for a greater understanding of the challenges, risks and opportunities facing your clients and get ahead of the competition.
Sharpen your knowledge of your clients and prospects
Use the FT as a resource to find out about the deals, transactions and macro issues that might affect a client. Keep up-to-date in a fast-moving environment, so you can better understand how your advice will affect your client's business.
Leverage our unparalleled analysis
Stay informed, spot emerging risks and seize opportunities with our global reporting and expert commentary.
It's the analysis and the horsepower behind the FT, the commentary and more. All my analysts have to read Lex as part of their job. In terms of getting the facts, FT do that really well. When you are in global corporate finance, you need to understand why deals are happening or not happening and you need to understand that quickly.

Managing Director, Cornucopia Capital
Almost 1,000 corporate enterprises

enhance

their workforce with

an FT Group Subscription
The FT is one of the most reliable, concise places you can go. How the FT does things like data journalism and breaks things down, is second-to-none.

Chief Executive, IPSOS Mori
Strengthen client relationships
With tools such as myFT and email alerts you can monitor the issues important to clients and provide advice within a commercial context. Share up to 20 gift articles each month with clients or colleagues in order to use specific stories as reference points or a catalyst for a conversation.
Get concise insight from FT Premium newsletters
Your trial provides access to range of specially-curated premium newsletters, which all share the ability to unpick complex situations in as few words as possible.
As well as the featured briefings below, the FT's extensive suite of newsletters cover topics from business education to global trade.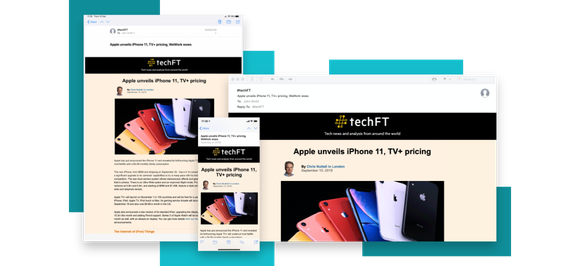 Join 4,000+ leading organisations that benefit from FT journalism. For any questions, comments or content recommendations, reach out to Delio's dedicated Customer Success Manager:
Owanari Briggs
owanari.briggs@ft.com
+44 (0)20 7873 3947