The FT helps professional services firms gain a more in-depth knowledge of the issues impacting their clients' industries, supply chains and adjacent sectors.

Start your free FT.com trial for a greater understanding of the challenges, risks and opportunities facing your clients and get ahead of the competition.
Once the trial has ended we will ask users for their feedback.
Sharpen your commercial awareness
Commercial awareness is knowing about the deals, transactions and macro issues that might affect a client. The FT helps you keep up-to-date in a fast-moving environment, so you can better understand how your advice will affect your client's business.
600+ professional services organisations

develop

commercial awareness using

an FT Group Subscription
The FT is just a complete staple for us. For a certain type of client and type of work, it's the first and the last word on those specific industries and what those clients care about. It's like our lifeblood.

Partner, Headland Consultancy
Strengthen client relationships
With tools such as myFT and email alerts you can monitor the issues important to clients and provide advice within a commercial context. Share up to 20 gift articles each month with clients or colleagues in order to use specific stories as reference points or a catalyst for a conversation.
Analysis delivered to your inbox
FT EMAIL BRIEFINGS, CURATED BY OUR EDITORS
In addtion to FT.com, you can also benefit from our range of newsletters - from daily news briefings to in-depth commentary on top global stories. As well as the featured briefings below, your trial access provides full access to the FT's newsletter library, covering topics from M&A to global trade.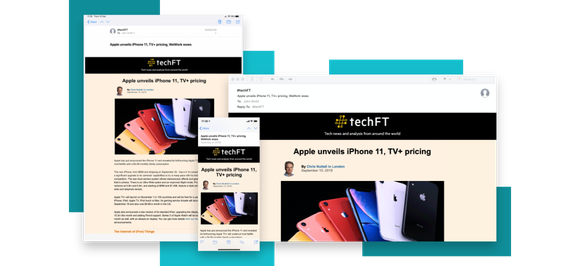 Complete the form below and go to FT.com to start using your free access.
If you are already a subcriber, please sign in to your account for access to FT.com.
If you are a new subscriber and having registration issues, please contact us at customer.support@ft.com or +44 20 7873 3999.