Enterprise Sharing enables frictionless sharing of FT article links with groups of clients and colleagues
Enter your work email to request a free trial

of FT Enterprise Sharing
What is FT Enterprise Sharing?
FT corporate subscribers often tell us they'd like to be able to share FT articles more widely than the existing gift article feature allows. This can be to initiate conversations, build relationships or enhance engagement.
Enterprise Sharing is a new product that satisfies those needs by providing frictionless sharing of FT article links, regardless of whether recipients have FT login credentials or not.
Share more FT content - Enterprise Sharing links can be opened by non-subscribers in higher volumes. That maximum number of views depends on how your organisation decides to configure the tool (e.g. 20, 50, 100+ views).
Maintain and strengthen credibility - Leverage the FT's global reputation for accuracy and integrity when sharing articles.
Initiate conversations - Engage clients in thought-provoking conversations and spark discussions around trends and new ideas with colleagues.
The FT is a catalyst to conversations, it can act as a spark.

Firmwide Managing Partner, Linklaters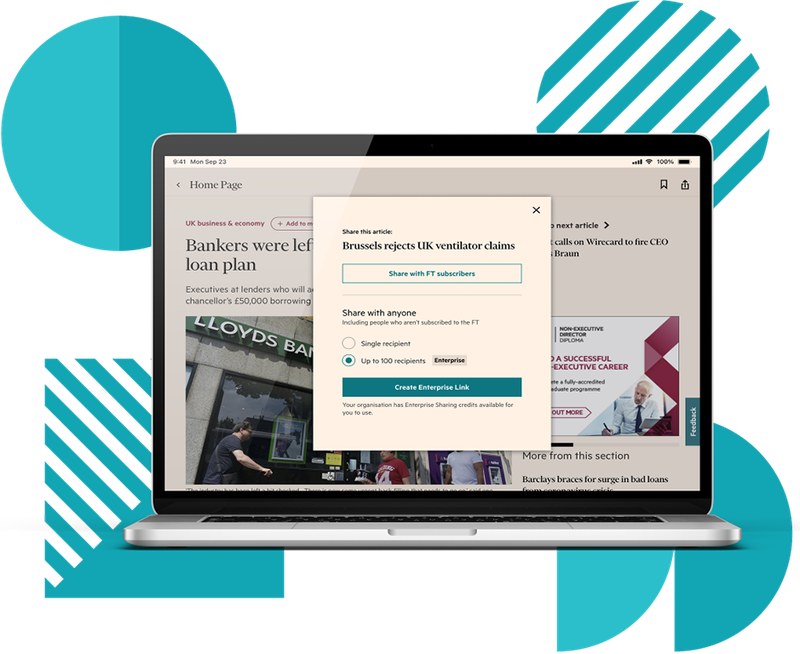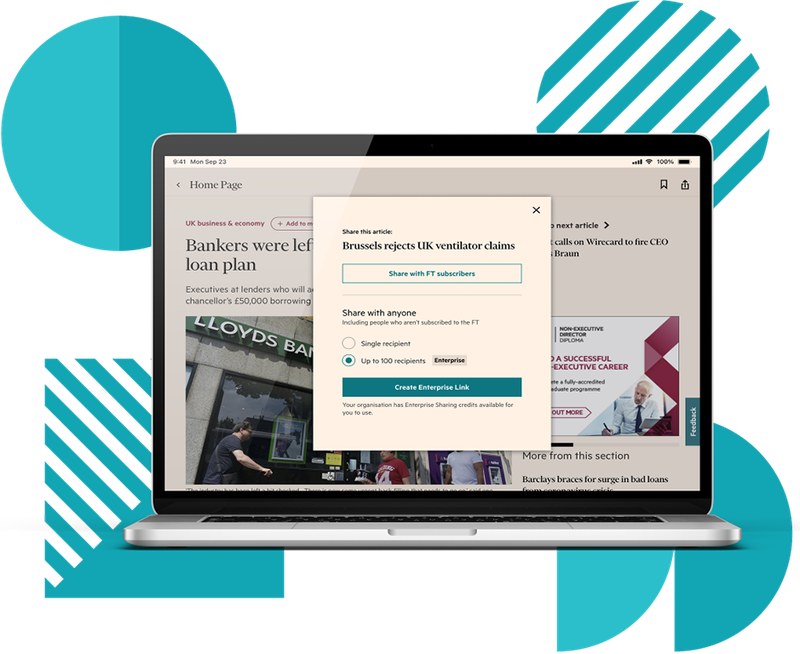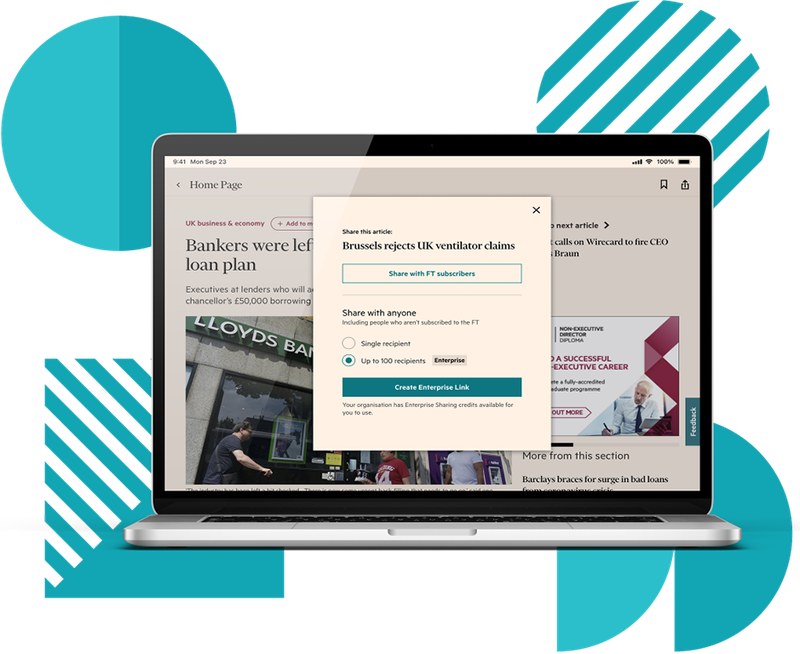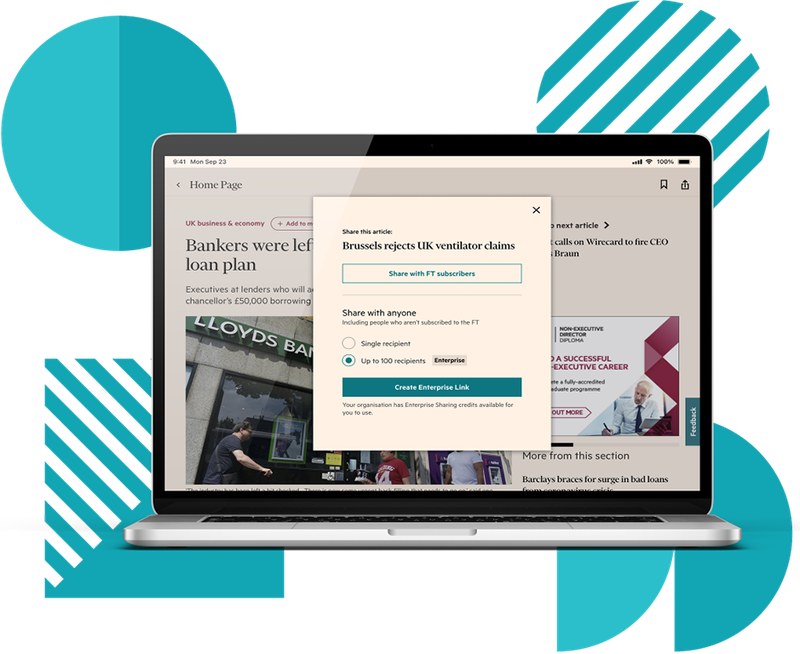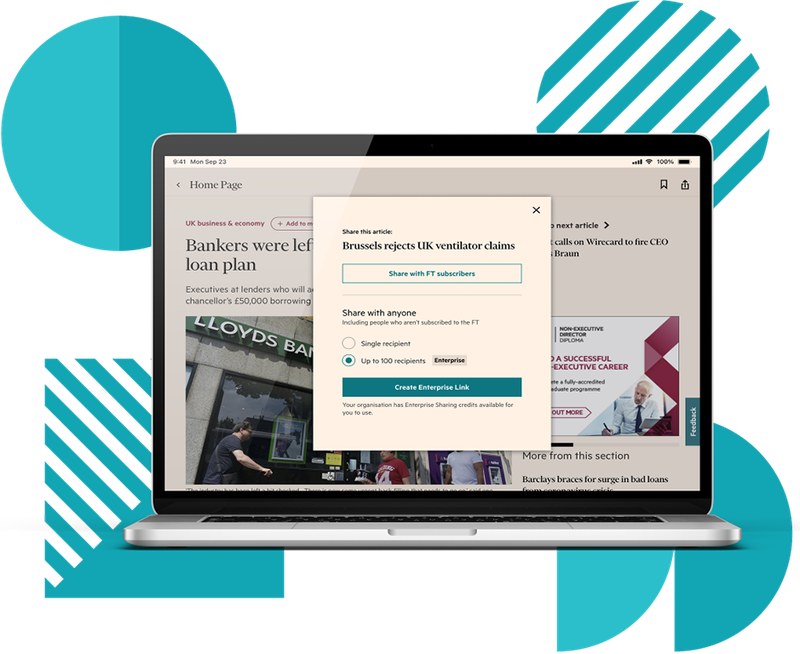 How does

Enterprise Sharing work?
Frequently asked questions
Once Enterprise Sharing is turned on for your account, clicking the 'Share' button on any FT.com article will present you with an option to generate an Enterprise Sharing link. This is alongside other options to share with existing subscribers (login required to view the story) or use a gift article credit (gift articles can be opened a maximum of 3 times).
Yes - Enterprise Sharing links can be generated by clicking the 'Share' button on an article on FT.com or from the same icon while using the FT app on Android and iOS devices.
Yes - the Enterprise Sharing usage dashboard provides visibility of how many times your article links are being opened, and allows you to re-use the links you've created previously.
The dashboard is accessed by visiting the 'myFT' area of FT.com and clicking the 'Enterprise Links' tab.
The person or people opening the link will directly access the article shared without hitting the FT.com paywall or having to provide any personal information. After the maximum number of article views has been reached, a visitor who is not an FT subscriber will hit a subscription barrier.
No, all limits are on an organisation or team level.
Connect more effectively
with your clients and colleagues.
Who uses Enterprise Sharing?
Enterprise Sharing enables the FT's insightful commentary and analysis to be used to stimulate discussions and build stronger connections, both with internal audiences and externally with clients and investors.
Client-facing professionals
Use a trusted source of market analysis to engage clients and prospects in meaningful discussions about potential opportunities or risks. Share FT commentary to create informal touchpoints for building stronger client relationships.
A day rarely passes when we do not share articles by FT journalists to provide and provoke valuable discussion points, both within the firm and externally with clients.

Chairman, Headland Consultancy

Communications and

knowledge teams
Keep internal teams well-informed at all times by curating links to share in email briefings and on company messaging platforms and intranet pages. Minimise complaints about passwords by providing instant access to FT content.
FT articles often provide ideas or talking points for board-level conversations. Senior management can share these impactful pieces in a frictionless way, including on social media, where FT articles can demonstrate thought leadership or be used for profile-building.

Connect more effectively
with your clients and colleagues.
Enterprise Sharing is available to customers who have a Premium FT Group Subscription of 5+ readers. The packages below are designed to meet the needs of different roles and teams within organisations.
The price is calculated based on the number of articles shared and the intended audience size or number of article views required. Different configurations of package are possible so please contact our team to help calculate your price.
Teams in advisory and sales roles can use FT articles to start client conversations
Key features:
200 articles (equivalent to a team of four each sharing one article a week with clients)
Max 100 views per article
Pricing starts from £2,570
Communications teams can ensure internal or external audiences are kept informed
Key features:
100 articles (equivalent to a comms team distributing one or two articles each week)
Max 1000 views per article
Pricing starts from £3,980
Senior execs and investor relations teams can build their company's online profile
Key features:
50 articles
Max 100,000 views per article
Pricing starts from £5,775
Complete the form below to request trial access to Enterprise Sharing for your team or organisation. A member of our team will be in touch to capture your requirements and help with the rollout of your trial.
Frequently asked questions
Enterprise Sharing is available to customers who have a Premium FT Group Subscription of 5+ readers. If you would like to try Enterprise Sharing but currently aren't part of a Premium group subscription, speak to our team about arranging an FT.com group trial where we can also turn on Enterprise Sharing for the duration.
The trial gives your team or organisation up to 60-days free use of FT Enterprise Sharing (or until your sharing credits run out). When you submit the request form, an FT product specialist will be in touch to discuss your requirements and the appropriate number of articles and views for your needs.
Fill in the form above
A product specialist will get in touch to discuss your requirements (volume of articles and views)
We set up the trial and help you roll it out to your team or organisation
No, just enter your work contact details and refer us to the potential budget holder in your organisation who would be responsible for arranging the FT Enterprise Sharing access once the trial has ended.
You're under no obligation to pay for FT Enterprise Sharing after your trial ends nor will we autocharge you.
Once your trial ends, your Enterprise Sharing access will automatically expire. We'll be in touch with you to discuss how the trial went and the options available to you if you want to continue using Enterprise Sharing.