Enterprise Sharing enables frictionless sharing of



FT article links with clients
What is FT Enterprise Sharing?
FT corporate subscribers often tell us they'd like to be able to share FT articles more widely with clients, to initiate conversations, build relationships or spark a dialogue around new ideas.
FT Enterprise Sharing enables frictionless sharing of FT article links, regardless of whether recipients have FT login credentials or not.
Share more FT content - Enterprise Sharing links can be opened by non-subscribers in higher volumes. That maximum number of views depends on how your organisation decides to configure the tool (e.g. 20, 50, 100+ views).
Use your existing FT.com account - Links can be redeemed using the 'Share' button on FT.com and FT app articles.
Maintain and strengthen credibility - Leverage the FT's global reputation for accuracy and integrity when sharing articles.
Initiate conversations - Engage clients in thought-provoking conversations around trends or new opportunities.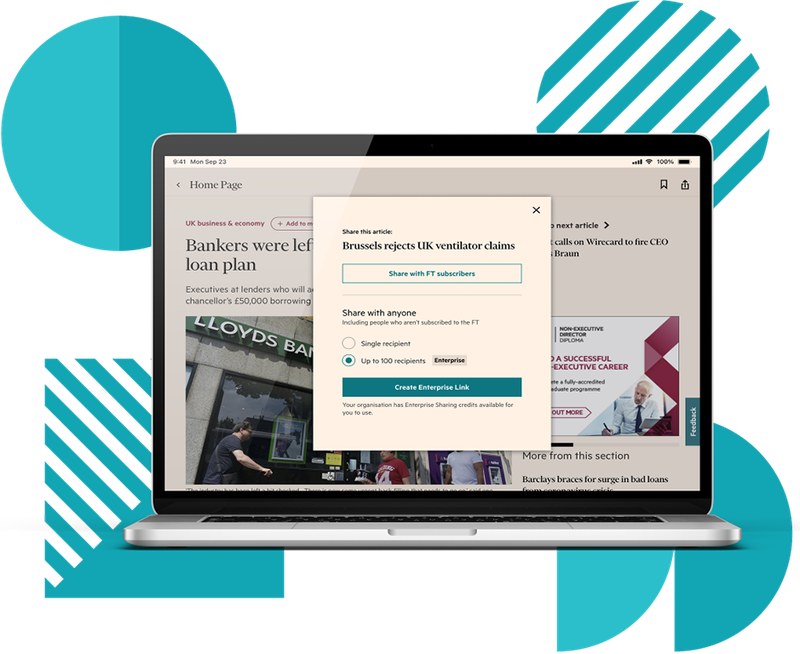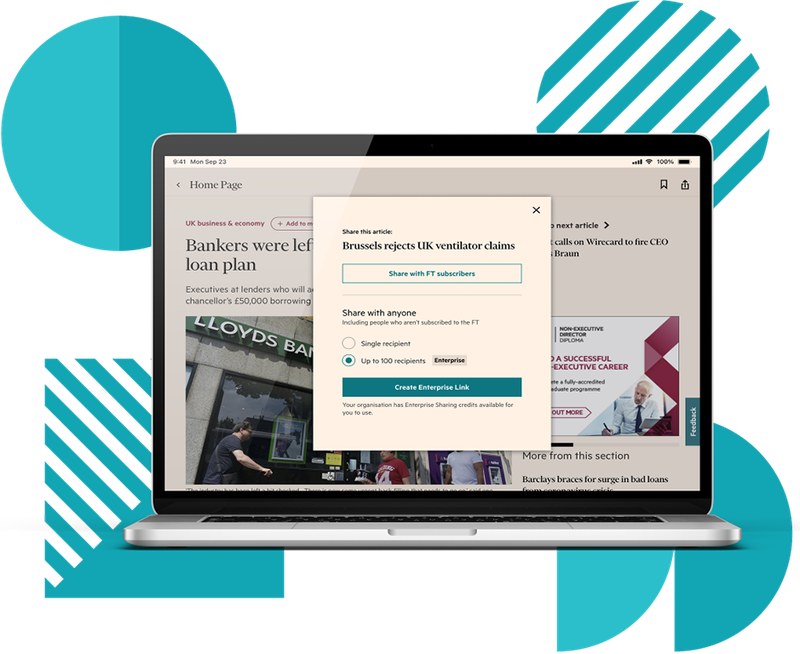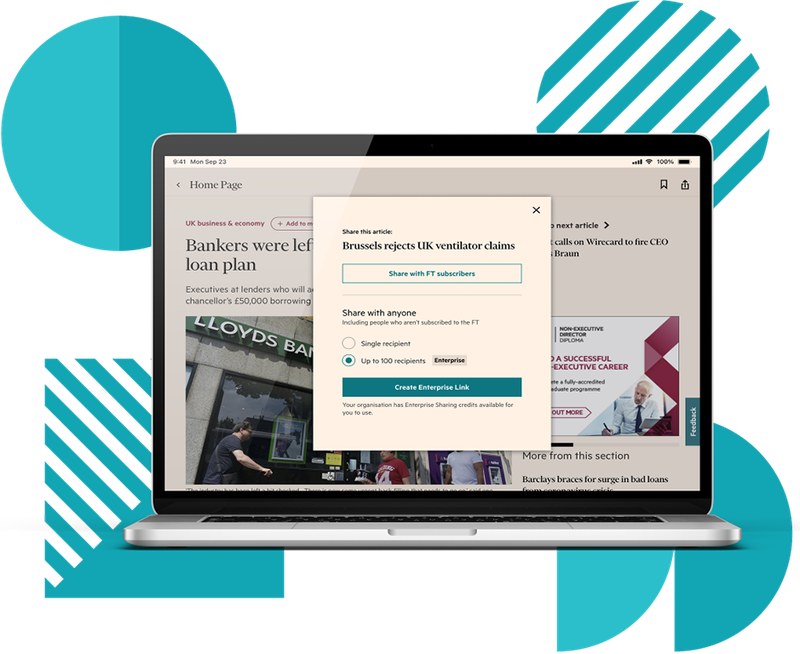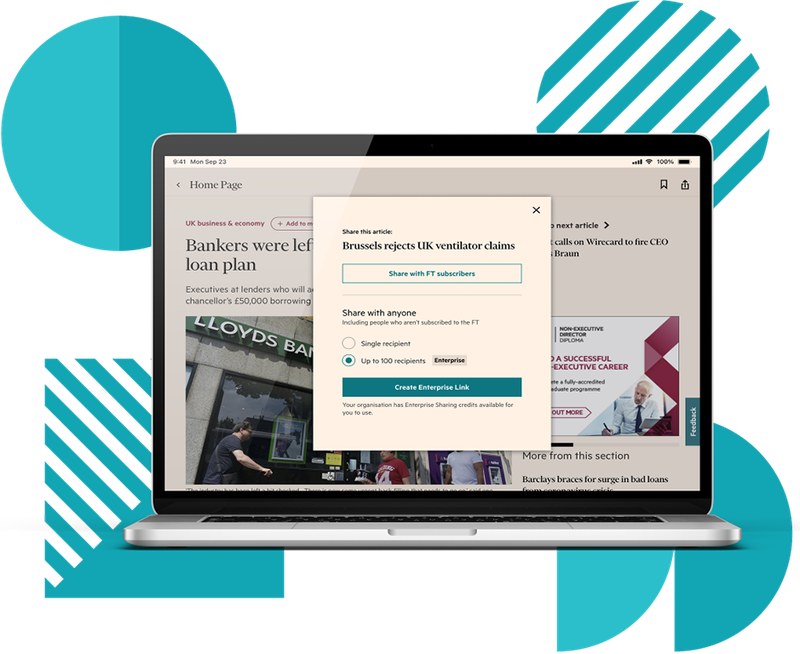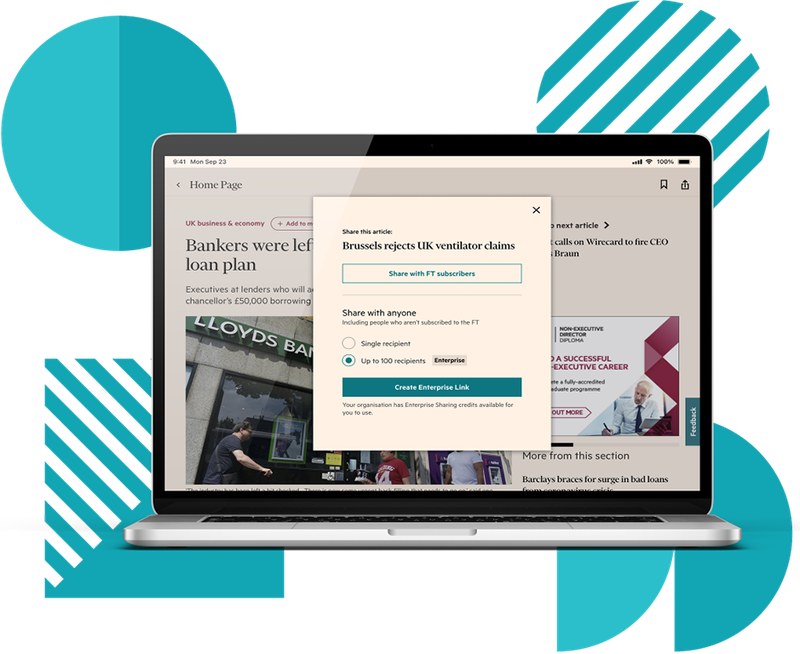 How does

Enterprise Sharing work?
Build stronger

client relationships
Use a trusted source of market analysis to engage clients in meaningful discussions about potential opportunities or risks. Share FT commentary to create informal touchpoints for building stronger client relationships.
The FT is a catalyst to conversations, it can act as a spark.

Firmwide Managing Partner, Linklaters

Demonstrate thought leadership
Share FT articles more widely with your network in order to demonstrate thought leadership and showcase your industry expertise.

Frequently asked questions
Once Enterprise Sharing is turned on for your account, clicking the 'Share' button on any FT.com article will present you with an option to generate an Enterprise Sharing link. This is alongside other options to share with existing subscribers (login required to view the story) or use a gift article credit (gift articles can be opened a maximum of 3 times).
Yes - Enterprise Sharing links can be generated by clicking the 'Share' button on an article on FT.com or from the same icon while using the FT app on Android and iOS devices.
Yes - the Enterprise Sharing usage dashboard provides visibility of how many times your article links are being opened, and allows you to re-use the links you've created previously.
The dashboard is accessed by visiting the 'myFT' area of FT.com and clicking the 'Enterprise Links' tab.
The person or people opening the link will directly access the article shared without hitting the FT.com paywall or having to provide any personal information. After the maximum number of article views has been reached, a visitor who is not an FT subscriber will hit a subscription barrier.
No, all limits are on an organisation or team level.