"It helps me get a lot of insight about the business world. With the FT, I'm not only studying from my textbooks, but I'm actually reading real-time news too."

Student Feliciano, School of Business
Feliciano School of Business
Driven by the single goal of transforming today's students into tomorrow's business leaders, the Feliciano School of Business has achieved a prominent place in the state and the larger region. Fully accredited by the AACSB, the School has over 3,500 students, and its six academic departments offer an array of degrees from a BS in Business Administration with 9 concentrations, to an MS in Accounting, to an MBA. Home to the Feliciano Center for Entrepreneurship & Innovation, the Ellyn A. McColgan Center for Student Services, and the 3D printing MIX Lab, the School offers state-of-the-art facilities and transformative learning opportunities for students.
The courses are designed to connect business theories to the complexities of today's news and events. In turn, the school produces alumni who are equipped to influence strategic decision-making.
Feliciano School of Business aims to ensure all students and faculty have access to the resources they require to be successful in their profession. The FT is an essential publication for students to develop the sort of global outlook that organizations demand in today's marketplace. An FT Group Subscription helps Feliciano School of Business to leverage a trusted source of news and analysis in delivering innovative courses.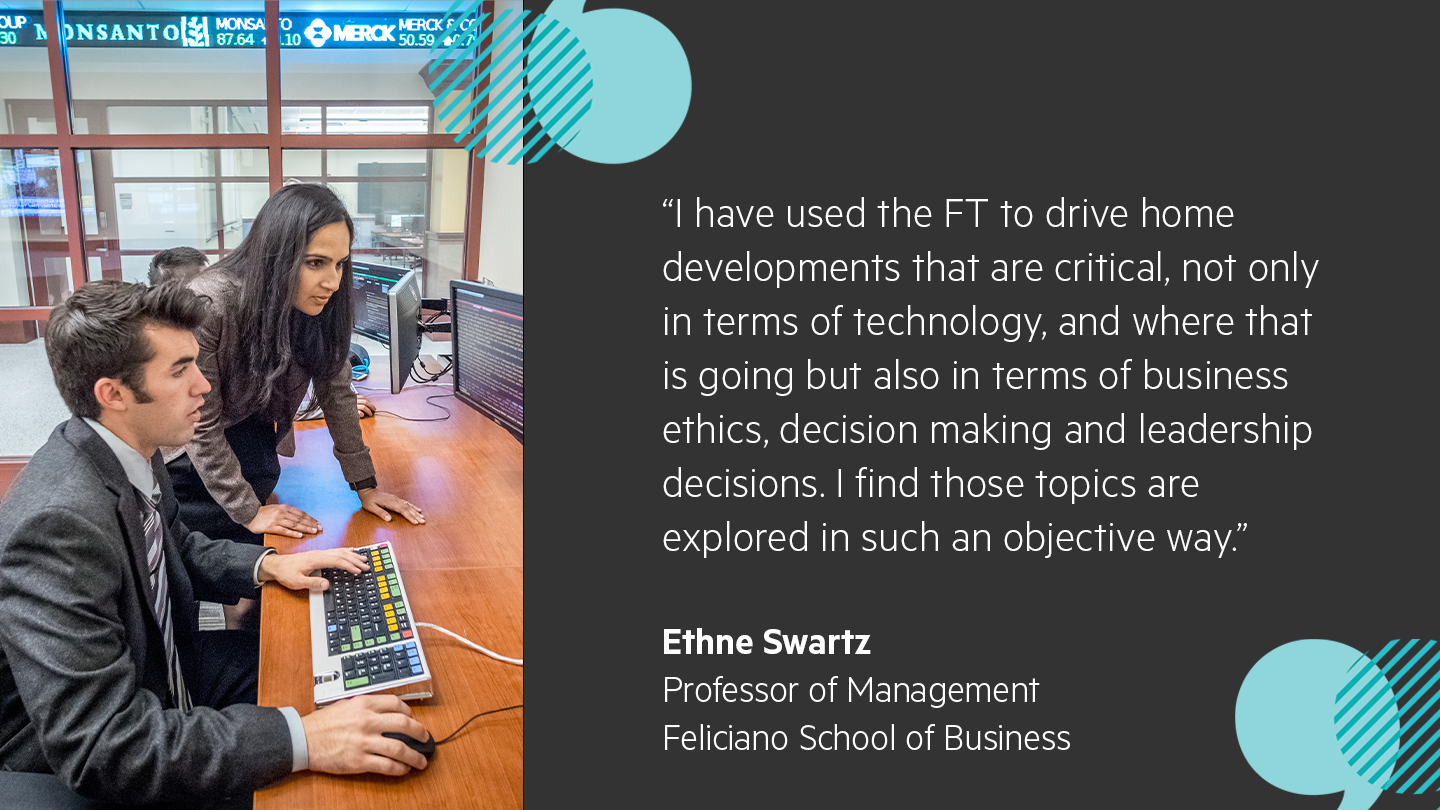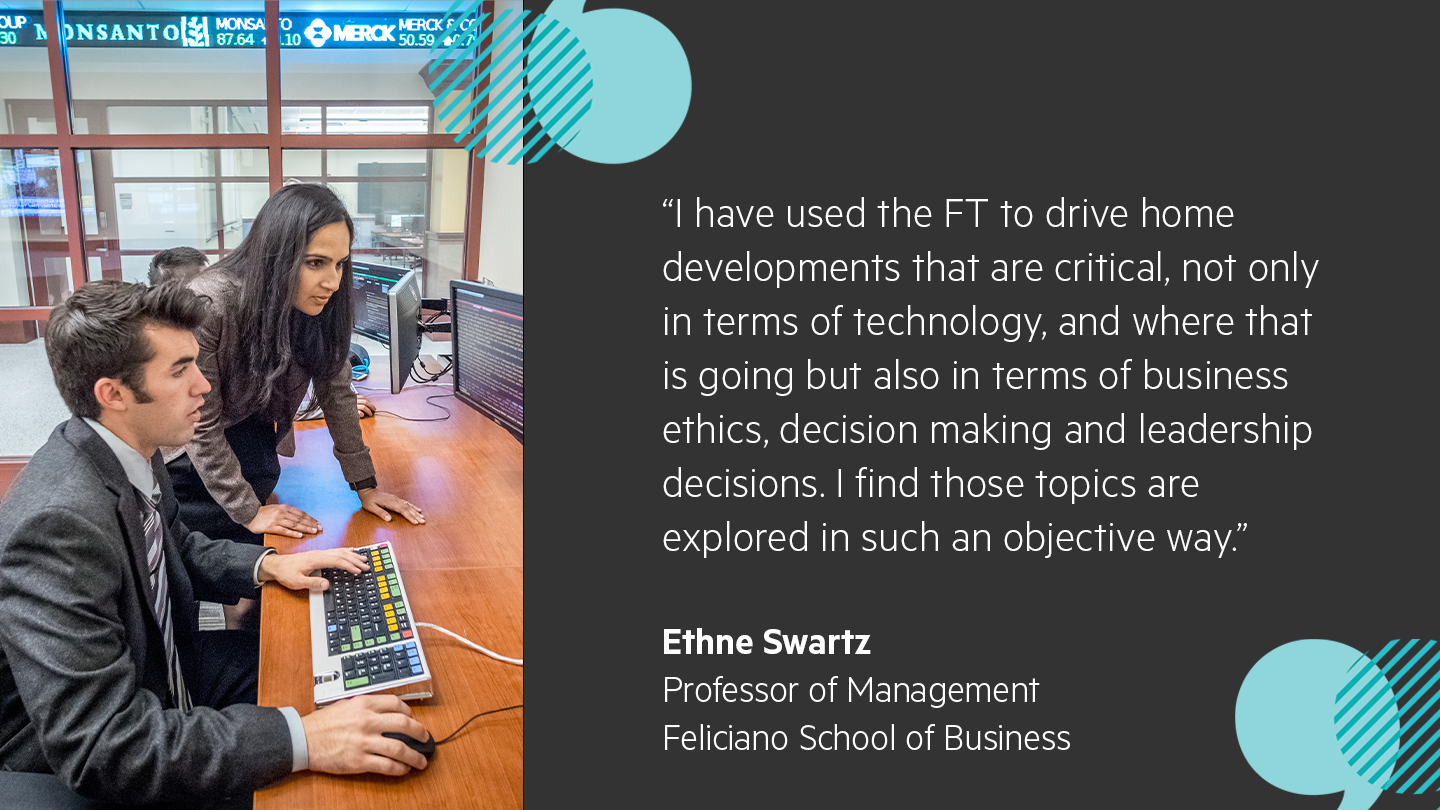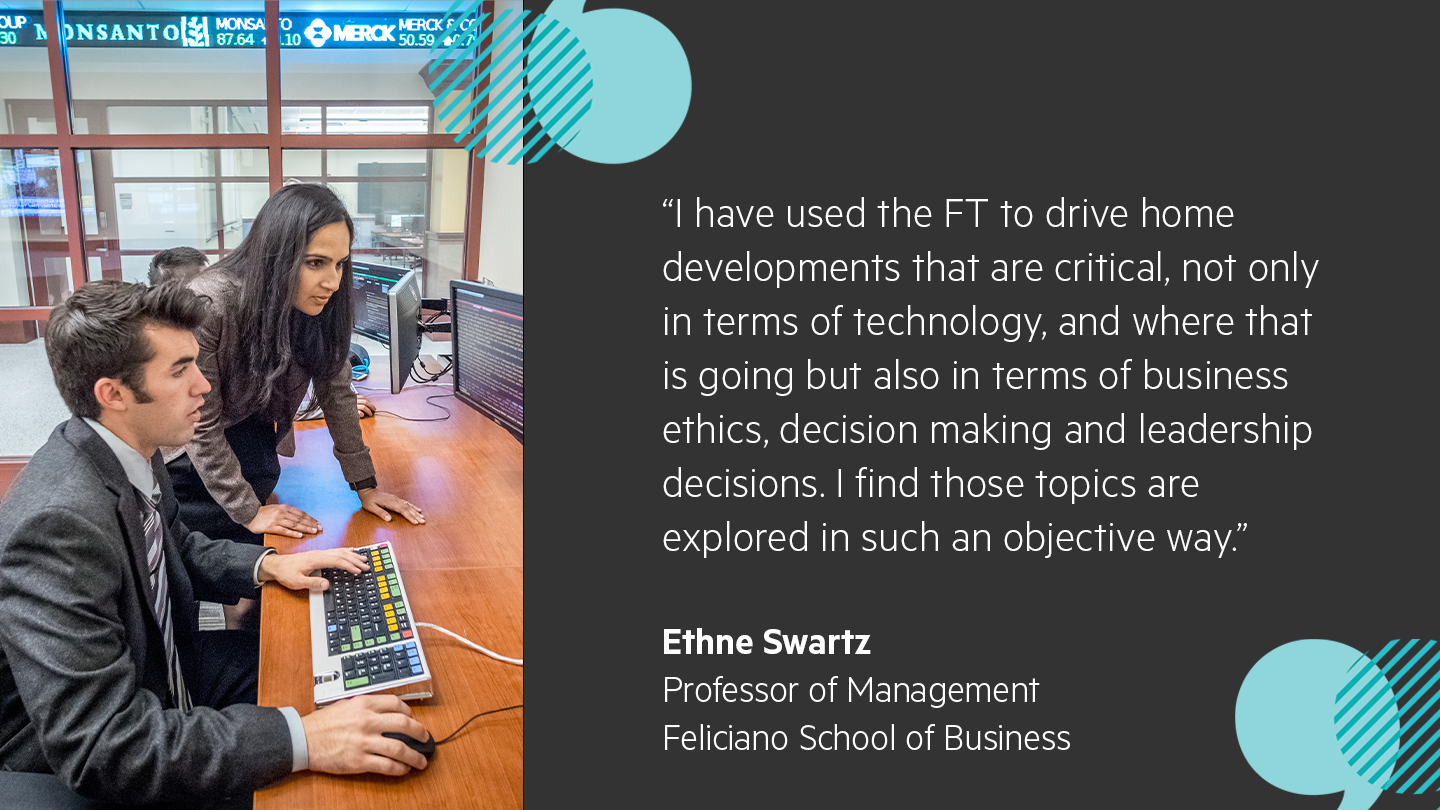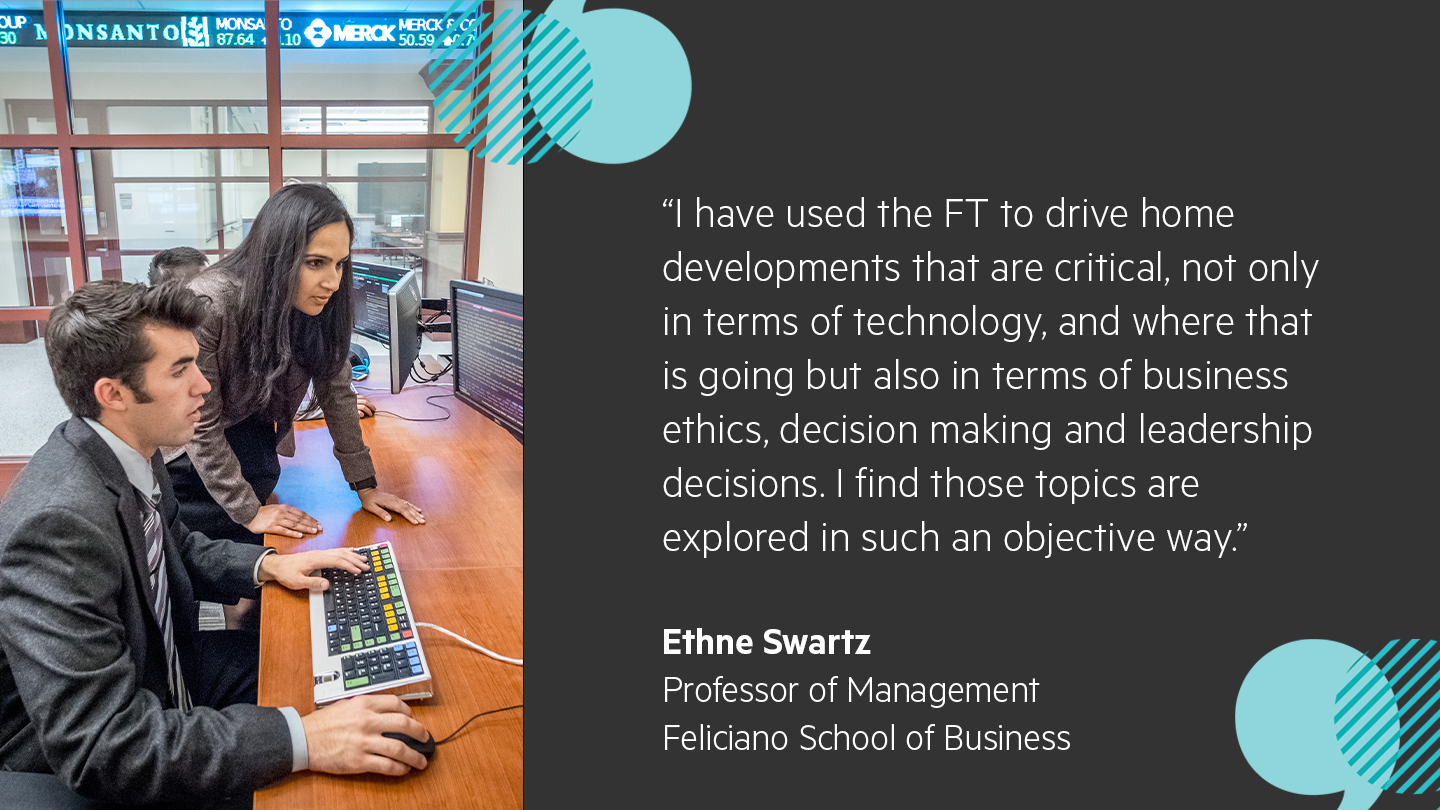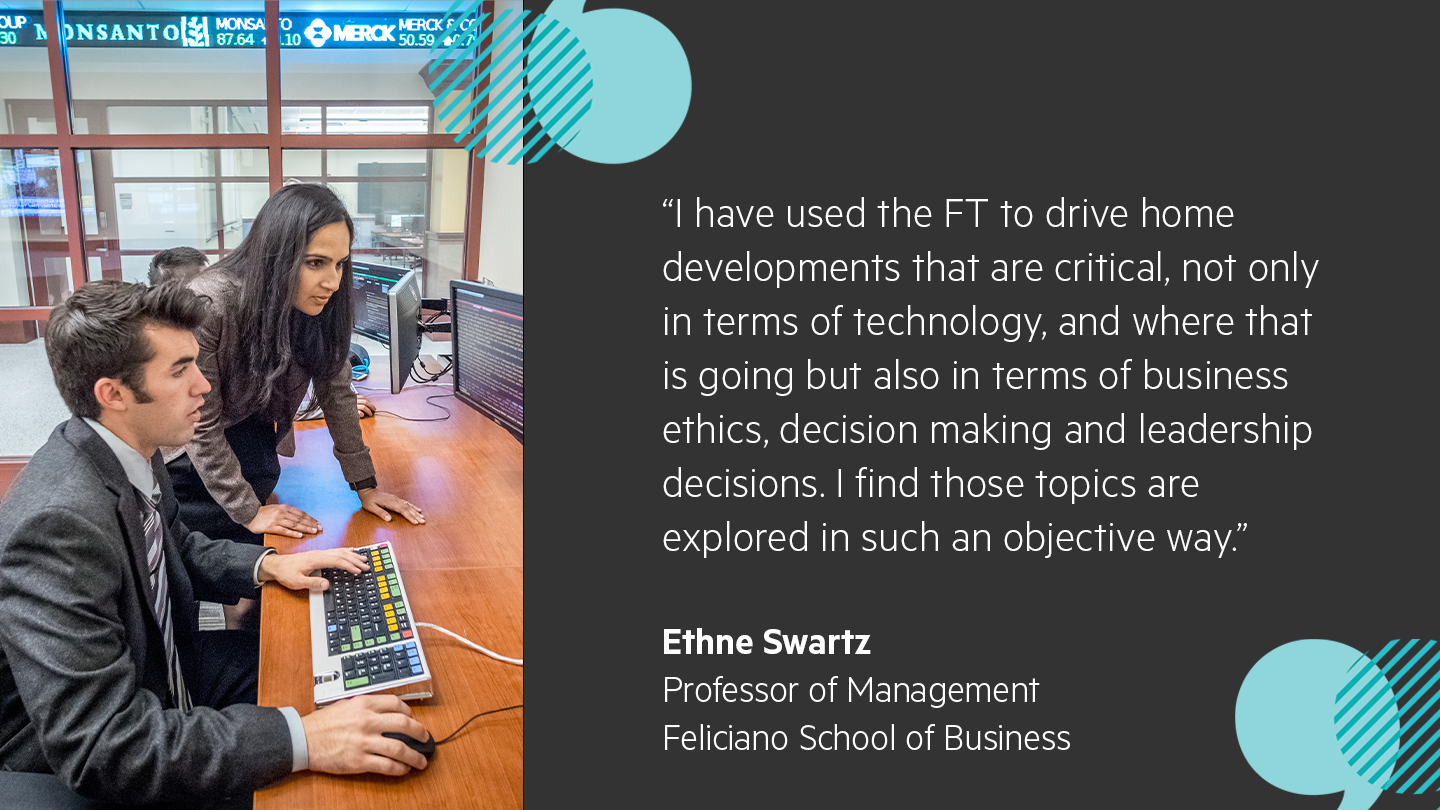 Educating with an international perspective
Today one challenge experienced by teaching professionals is ensuring that their students gain an international perspective applicable to their life after study. Professors Gary Kleinman and Ethne Swartz recognize the importance of this and incorporate FT content into their teaching.
Gary Kleinman is a tenured professor at Feliciano School of Business and teaches a variety of business courses. Gary explains that one of his key roles is to "educate students to do well in the work world." The diverse, international curriculum at Feliciano provides professors with the opportunity to teach using global examples of business case studies. To do this, professors like Gary use FT content. With such a sea of information, students are learning through up-to-date analysis and insights taking place in the world around them.
Ethne Swartz is a Professor of Management and finds the FT to be "a particularly universal tool," Ethne adds that, "a number of us felt that our students needed access to good quality journalism," and turned to the FT to satisfy this need. As the world becomes more interconnected, using an FT Group Subscription helps facilitate teaching as close to the real world as possible. Distinctively, FT subscribers benefit from the journalism of over 600 international journalists working together to share insights and underpin agenda-setting news coverage.
To engage his students with real-world learning, Gary uses specific examples of FT content "to buttress the students' knowledge of accounting and finance regulation in other areas of the world." He specifies that, "For my undergraduate auditing students, I use it to encourage their awareness of audit firm foibles overseas, such as EY and Wirecard."
Renowned for its transparent reporting, the FT demonstrates the pursuit for the truth when guiding FT readers through the Wirecard accounting scandal. When professors use these actual examples, students gain a global yet structured understanding of events. In turn, increasing student's ability to understand theoretical concepts applied to real world situations.
Ultimately, Feliciano School of Business wants to ensure that its students receive a rounded view of the international world of business. An FT Group Subscription delivers a resource of up-to-date global analysis that provides value through insights and objective journalism.
Preparing tomorrow's business leaders
Similarly to the faculty, the students at Feliciano School of Business benefit from accessing FT content through the school's group subscription. From entering a business mindset to increasing commercial awareness, an FT Group Subscription provides real-life business context — a key factor in becoming tomorrow's business leaders.
Ana Diep, a junior student graduating in May 2022, was introduced to FT.com by her professors. She mainly uses the FT for "case studies and topics around technology and business aspects." When discussing the FT she adds that, "I wouldn't be able to do my own homework without it so it's actually a very helpful source."
Unquestionably, combining both theory and practical examples creates a greater learning experience than through just one of these elements alone. With an FT Group Subscription, the high quality, real-life insights helps students like Ana to make connections across the breadth of news coverage.
For students, this produces greater clarity around commercial awareness. Strong commercial awareness proves the level of understanding that an individual has about a business. This includes knowledge about a business's industry, competitors, and even how they operate and make a profit. With its reputable content, the FT helps put context into learning and forms a 'big picture' view of business. For instance, the FT analyzes changes in the markets and discusses trends within the business world. In turn can help increase a student's business acumen.
Sumaya Fida also studies at Feliciano School of Business and is majoring in business administration, monitoring and management. Sumaya uses FT.com, "to keep up to date with business related news." By regularly reading FT.com, students can understand the professional mindset required for today's business world. Through its in-depth industry analysis and insights, the FT helps strengthen a business mindset. FT subscribers benefit as FT content enables them to make connections and better understand opportunities and risks within their relevant industries.
In particular, FT alerts and newsletters are useful tools for Sumaya. She explains that when using these FT tools she "takes a quick read and then every week during class, we have a discussion about what we found interesting and how it relates to the topics we're covering."
In this context, students are encouraged to read as if they were already business professionals. By reading articles and news from the FT, they will recognize the importance of understanding how emerging business opportunities and risks affect decision making.
Over 1,000 leading education institutions find value in the FT's global intelligence. Similarly to Feliciano School of Business, their FT Group subscription provides them with the real-world cases and support to prop up the impact of their teaching.
An FT Group Subscription extracts the intelligence that's relevant to your business and delivers it via the media and technologies that suit you best, saving you time and keeping you informed on what matters.
Request a free trial today and see how our award-winning journalism, from 600 journalists across the globe, can help you and your team make informed decisions and reach your goals faster.