Trusted Intelligence in Extraordinary Times
In the current crisis, businesses are racing to reduce risk and manage disruption. But without reliable intelligence, they are doing it blind. Read this report to learn how the FT can help you mitigate risk, spot new opportunities and quickly adapt to the fast-moving changes.
The FT's Trusted Intelligence in Extraordinary Times report helps businesses cut through the noise and navigate escalating risks with:
The FT is one of the most reliable, concise places you can go. How the FT does things like data journalism and breaks things down, is second-to-none.

Chief Executive, IPSOS Mori
Leverage our award-winning journalism
Stay informed, spot emerging risks and seize opportunities with our global reporting and expert commentary.
With over 125 years as one of the world's leading news and information organisations, the FT provides businesses, governments and education institutions across the globe, with award-winning journalism and tools to help them achieve their goals faster.
FT EMAIL BRIEFINGS, CURATED BY OUR EDITORS
The FT offers a variety of newsletters - from daily news briefings to in-depth analysis of top global stories - to inform your unique business needs. In addtion to the featured briefings below, FT Group Subscriptions provide full access to the FT's newsletter library, covering topics from business education to London markets commentary.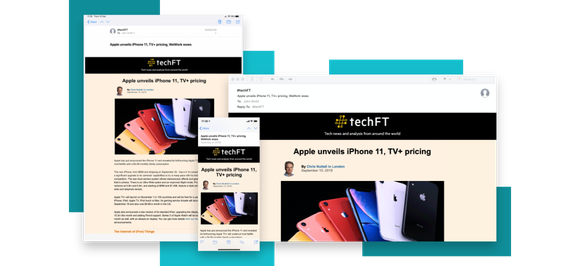 Start with a free trial and find out how to improve performance with FT services for organisations.